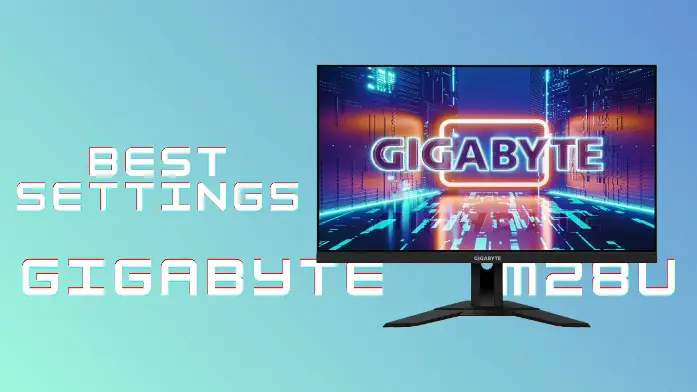 The GIGABYTE M28U 4K 28" 144Hz Monitor has unmistakably risen to prominence as a leading choice in today's market. Its appeal lies in a harmonious fusion of state-of-the-art features and breathtaking visual prowess.
In this comprehensive settings guide, we will embark on a journey to unravel the intricacies of this remarkable monitor, with a particular focus on finding the best color settings for GIGABYTE M28U. Together, we will uncover the precise settings and configurations that will elevate your gaming and viewing experiences to unprecedented heights.
Let's delve deeper into the world of this exceptional display and unlock its full potential.
The GIGABYTE M28U: A Visual Marvel
Before we dive into the settings, let's take a moment to appreciate the monitor itself. This 28-inch 4K display is a visual marvel, offering an impressive 94% DCI-P3 colour coverage and HDR 400 support. With HDMI 2.1 ports, it opens up the world of 4K gaming at a blazing 144Hz on consoles like the Xbox and PlayStation 5, making it a compelling choice for gamers.
Designed primarily as a PC monitor, it boasts a native 4K resolution with a refresh rate of 144Hz. Its Interlux IPS panel provides wide viewing angles and exceptional clarity, ensuring that you won't be disappointed with the quality of your content, be it gaming or multimedia consumption.
Vibrant Colors and Remarkable Brightness
One of the standout features of the GIGABYTE M28U is its ability to deliver vibrant and eye-catching colours. Whether you're in SDR or HDR mode, this monitor shines bright. The presenter of the monitor's showcase video emphasizes just how vivid and beautiful each image appears on the screen.
In practical terms, this means that your games and movies will pop with colour and contrast, immersing you in a world of rich visuals. Even with ambient lighting, the IPS technology enhances contrast, making every detail stand out.
Optimal OSD Sidekick Settings
Now, let's get into the nitty-gritty of optimizing your GIGABYTE M28U monitor's performance. The OSD (On-Screen Display) Sidekick, a utility provided by GIGABYTE, allows you to control various monitor settings from your PC. Here are the recommended settings to achieve the best picture quality:
Aim Stabilizer: Enable this feature to reduce motion blur during fast-paced gaming sessions.
Black Equalizer: Set this to 8 for improved visibility in dark areas of games.
Super Resolution: Keep this at 1 for a balanced image enhancement.
Overdrive: Toggle this feature based on your preference; it can be set to 'off.'
FreeSync Premium Pro: Ensure this is enabled for smoother gameplay.
In SDR mode, consider the following settings:
Mode: Standard
Brightness: 100
Contrast: 80
Sharpness: 5
Gamma: Choose either 2.2 or 2.4 for enhanced contrast and vibrancy.
Colour Temperature: Normal
Local Dimming: You may want to keep this off to maintain brightness, especially in small highlights.
The presenter highlights the importance of the gamma setting, as choosing the right value can significantly impact colour accuracy and overall visual appeal.
Conclusion
The GIGABYTE M28U 4K 28" 144Hz Monitor undeniably shines as an exceptional choice within the gaming monitor landscape, particularly for those in pursuit of a top-tier 4K experience. Its impressive amalgamation of high resolution, a remarkable refresh rate, and impeccable color accuracy establishes it as a truly compelling option.
Unlocking the full potential of this monitor hinges on the configuration of the OSD Sidekick settings, with a special focus on discovering the best color settings for GIGABYTE M28U. These settings serve to elevate both your gaming and viewing pleasures, ensuring that the monitor delivers on its promise of unparalleled picture quality.
As technology advances by leaps and bounds, this monitor serves as a testament to the extraordinary visual experiences now at our fingertips. If you find yourself in the market for an affordably priced HDMI 2.1 monitor that refuses to compromise on quality, then the GIGABYTE M28U undoubtedly merits your consideration. While we anticipate more comprehensive reviews and comparisons in the future, it's safe to declare that this monitor is already a standout winner within its category.