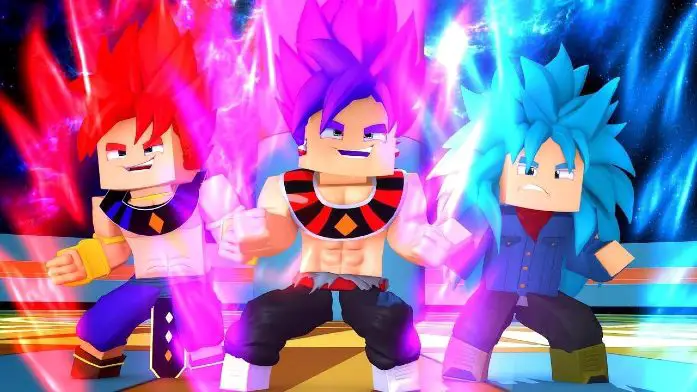 Want to play Dragon Ball Universe in Minecraft? There is a Mod called Dragon Block C.
Dragon Block C Mod has come a long way; it has been out for a long time; it adds various abilities, weapons, and enemies to Minecraft.
You can even transform into a Super Saiyan and use spirit bomb, many other KI blasts abilities and play multiplayer with friends, so basically, this Mod is filled with many Dragon Ball things. Today we will show you how to install it.
What Is Dragon Block C?
Dragon Block C is a mod that lets you play Dragon Ball, Dragon Ball Z, Dragon Ball GT, and Dragon Ball Super characters in Minecraft, along with all the extraordinary abilities from Ki Blast to the Spirit Bomb.
JinGames created the Mod; you should help them on Patreon; that way, the Dragon Block C Mod keeps getting new updates and bug fixes.
How To Install Dragon Block C Mod & Zero Server In Minecraft?
Go to the JinGames website by clicking here.
Scroll down, and you will see the Download Links.
Download JRMCore 1.3.34, JBRA Client 1.6.47, Dragon Block C 1.4.73, and Family C 1.2.17.
Download Custom NPCs by clicking Here.
Download the exact version CustomNPCs_1.7.10d(29oct17).jar (If you download the wrong version, the DBC Zero Server won't work)
Download Armourer's Workshop by clicking here.
We need to Download Forge for Minecraft to apply the Mods.
Open the Minecraft Launcher and click on the Installations tab, and create a new installation with version 1.7.10. (Run game and exit)
Run the Forge file with java launcher after installing open up Minecraft Launcher again and create a new installation with 1.7.10 Forge.
Play Forge installation will create a mod folder in your computer again exit the game.
Find the Mod folder by pressing Windows + R, then type %APPDATA%\.MINECRAFT hit enter; go to mods folder and paste all six jar files.
Relaunch Minecraft, then play go to Mods, and you will see mods now; if you want to play in Minecraft Block Zero Server, go to Multiplayer and add whatever server name, for the server address, type dbcserver1710.jingames.net press done.
Conclusion
Now you can enjoy Dragon Ball universe in Minecraft whether you play the single-player story mode or multiplayer with your friends.
If you have any problem installing the mods, please feel free to ask in the comment section below.