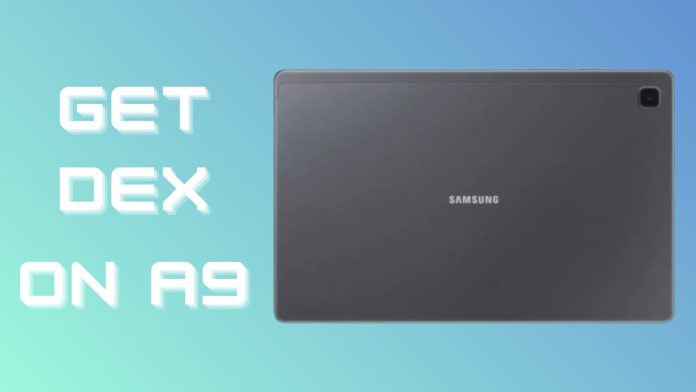 Would you like to take use of Samsung Dex's capabilities on your Galaxy Tab A9? Unfortunately, native Dex support is not available for these tablets because of their entry-level configuration.
The Tab A9 does not come with Dex capabilities out of the box because Samsung has saved it for its high-end tablet series. However, we've discovered a fascinating substitute app that can offer a multitasking experience that's comparable to Dex on your Tab A9.
Now, without further ado, let's explore how you can easily turn your basic tablet into a multipurpose powerhouse without rooting or requiring complicated changes.
How To Get Samsung Dex on Galaxy Tab A9? | Desktop Mode for A9 & A9+
To unlock the full potential of your Galaxy Tab A9 and enable a Dex-like multitasking experience, follow these steps carefully:
Access Developer Options:
Firstly, go to the "Settings" on your Tab A9.
Scroll down and select "About Tablet."
Find the "Software Information" tab and tap on it.
Locate the "Build Number" entry and tap it five times consecutively. This action will enable the "Developer Options" in your device's settings.
Configure Developer Options:
Now that you have Developer Options enabled, go back to the main "Settings" menu.
Scroll down to find and select "Developer Options."
Inside Developer Options, enable "Force activities to be resizable." This will allow you to resize apps for a more flexible multitasking experience.
Download the Taskbar App:
To enhance your multitasking capabilities further, download the Taskbar app by clicking [Here].
Install and Activate Taskbar:
Once the app is downloaded, open it.
Locate and toggle on the top-right button to activate the Taskbar app.
Grant App Permissions:
The app may request certain permissions. Grant these permissions to ensure it functions correctly.
After granting permissions, press the top-right button once again to enable the Taskbar app fully.
Enable Accessibility for Taskbar:
For seamless functionality, don't forget to enable accessibility for the Taskbar app in your device's settings. You can usually find this option in the "Accessibility" section under "Settings."
By following these steps, you can maximize the multitasking capabilities of your Galaxy Tab A9 without the need for complex modifications or rooting. Enjoy a more versatile tablet experience!
It appeared in the bottom left-hand corner; now, tap the little arrow in the bottom left-hand corner to select programs from here, similar to a Start menu. If the program launches in full-screen mode, drag from the top left corner to resize it; now, you can move it about as you choose.
Conclusion
While the Galaxy Tab A9 may not come equipped with native Samsung Dex support, the alternative software solution outlined here offers a practical way to achieve a similar multitasking experience.
By following the provided steps, users can unlock the full potential of their tablet, transforming it into a versatile and efficient tool for various tasks. Additionally, the option to connect to a Chromecast for expanded screen real estate presents an opportunity to further enhance the tablet's functionality.
For those seeking alternatives or facing any challenges during the process, exploring options like Sentio can provide additional avenues to customize the multitasking experience. With these tools and tips at hand, users can make the most of their Galaxy Tab A9, maximizing its capabilities without the need for intricate modifications or complex rooting procedures.