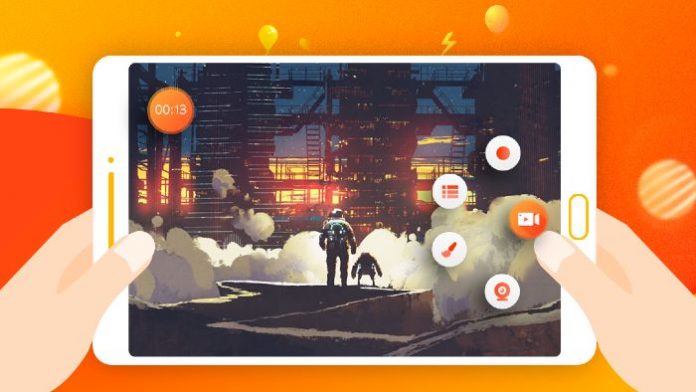 Using a screen recorder with Android is useful to capture the content of the smartphone. The device with an Android Operating system does not have the integrated screen recording function, but Google Play offers a series of apps that perform the process. So today we have selected 10 best free screen recorder apps for Android.
What Are Best Free Screen Recorder Apps For Android?
1. AZ Screen Recorder
AZ Screen Recorder allows you to record the screen without a time limit, without a watermark and with the quality you want. Promotional videos, tutorials, gameplay. AZ Screen Recorder makes recording easy with a button that activates recording without doing anything else.
In addition, you can include your face in the recording through the front camera, configure a counter to plan the recording. For the rest, AZ Screen Recorder also allows you to broadcast live video through social networks or perform basic editing tasks on the resulting video, such as removing unnecessary fragments.
2. Mobizen
Mobizen gained some fame with its remote control applications, but it also has an application specialized in screen recording. It is a bit of a "CleanMaster" app with more advertising than we would like, although if you have patience you can dodge it and take advantage of it.
You can control the recording with a floating button like AZ Screen Recorder, although there is no live broadcast here. What you can do is edit the resulting video by adding an intro and an outro or cutting their duration.
3. DU Recorder
DU Recorder enables screen recording with up to 1080P quality at 60FPS speed. Best of all, this application can record without time limits, something very important for many consumers. It also has other features such as its own editor which allows a lot of freedom when creating our content.
It is characterized by being totally free, something that is currently of great importance for those who prefer to save money for other apps. In addition, it does not weigh more than 5MB, which leaves us a lot of space on the device, which will give you more freedom to make longer footage.
4. Game Screen Recorder
Game Screen Recorder has a smart system that allows you to automatically identify games within your phone. Thanks to it you can record all your games, even if you have forgotten to do so. This application also stands out from the others, because it allows the user to create prologues. With this tool, you can give more drama to your game or create a totally different story.
You'll love it! In addition, it has a record button that will become your favorite, because it allows you to pause and continue recording as many times as you want. At the same time, the button can be customized (choose the image you want) and can disappear from the recording by activating the option "Stop by the recording button".
5. ADV Screen Recorder
ADV Screen Recorder includes its own floating button. From there you can start recording, show, and hide the superimposed front camera or scribble on the image with the brush tool. it does not have watermarks, something that sometimes hinders the view of the visual material, allows us to add our own logo designs, etc.
Like Screen Recorder, it does not have a video editor but the only available option is to cut the duration. In return, you have a relatively light application, about 10 MB compared to 32 MB in AZ Screen Recorder. All these aspects make it a very complete application for anyone.
6. Screen Recorder – No Ads
Screen Recorder – No Ads is another free proposal without ads. This app is a good alternative if you need something simple, but complete, without any additions and with less advertising than other applications. For devices with Android 6.0.
It allows configuring some parameters such as clip resolution, bit rate, frames per second, recording audio from the microphone, and modifying its quality. It does not have a floating button; in this case, it is handled with a floating bar. As a negative point, there is no complete video editor like in other applications, although it is possible to trim the recordings.
7. Screen Recorder V
Yes, again you will find a floating button from which to control the recording, although this does not have a brush or live broadcast like others. What you have in return is one of the most complete video editors.
In this editor, you can add texts with special effects, add music, subtitles, include other scenes with transitions, add voiceovers, and much more. It's like carrying a small recording studio on you.
8. Riv Screen Recorder
The Riv Screen Recorder is the simplest screen recording application on the list. It does not present editing options or resources to increase the capture. Unlike the others, it does not have a shortcut button or countdown to start the process.
The content footage starts and ends on the program screen, where the user presses "Start Recording" and "Stop Recording". Editing to remove those unwanted parts can be done in Android's own photo and video editor.
9. Super Screen Recorder
Super Screen Recorder is a very good Android screen grabber, it comes with different options so that anyone can use it and edit the videos they prefer. An important part is that it has no time limit on the recordings, a feature that many will appreciate and thus no one will have to worry about the time, it also has a wide range of video quality for different preferences and does not integrate a watermark into our projects.
In general, a very complete and well-worked application to record our screen. makes the process much easier and is a lot of fun to use. It has no recording limit and if you have a lot of storage capacity on the device it can be really useful.
10. Screen Recorder NILL
Screen Recorder NILL is Another option to record a video from the screen of your Android phone. In this case, it does not require root for Android devices. It has the option to mark the points you touch on the screen and you can shake or turn off the screen to end the recording.
Among the advantages of this app is that it has no recording limits, so you will not have limits to record video. The only cons are that to record audio you must buy the pro version. The application is available for Android.
Conclusion
Try them and start capturing everything that happens on your Android Screen. With these apps, you will not be able to stop recording!
What do you think of the best free screen recorder apps for Android?. Which one is your favorite?. Leave a comment below that you like the most.