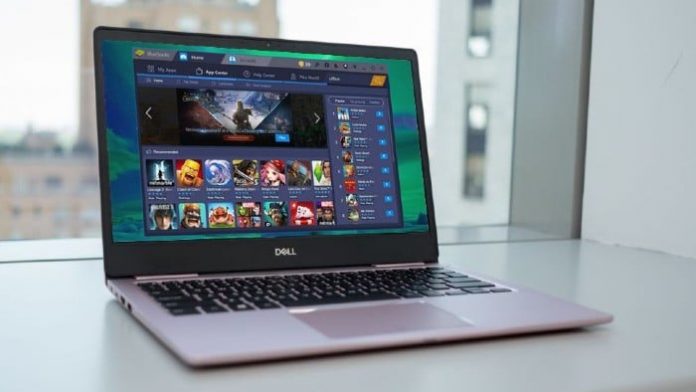 Android emulators are becoming extremely popular as Android popularity continues to grow. From developers testing apps to gamers playing on a big screen, users want to experience the Android operating system on a Windows PC with a mouse and keyboard. So in this article, you will find a list of the best Android emulators for Windows PCs, and that you can use in 2020.
Note: I have tested all emulators on my Gaming PC (Core i9) with Windows 10 Pro and can confirm that they work as advertised. All of these applications should also work on Windows 7, 8, 8.1, but given the wide range of Windows hardware, they may or may not work well.
What Is An Android Emulator?
An Android emulator allows you to simulate the interface of an Android Mobile Device on a Windows PC. And thanks to this, it is possible to use this operating system from the comfort provided by a computer.
Spending less time looking at your Smartphone will thank your text neck and cervicals, and the best way to spend some fun time with your favorite apps is by looking at a screen that is at eye level.
Reasons For Using Android Emulator On Windows Pc
Android emulators offer an alternative solution for people who don't have a high-end Android phone or Android device.
Use Apps that are not compatible with your mobile.
You don't have to divert your attention to the mobile if you constantly use the computer to work.
Check out multiple applications or play multiple games at the same time.
Save your mobile battery and extend its life.
What Are Best Android Emulators For Windows PC In 2020?
1. BlueStacks
BlueStacks is one of the oldest and best-known applications to emulate Android on the PC, and also one of the most complete with keyboard and mouse mapping for use in games. Many users around the world got started in the Android emulation world using BlueStacks. Its installation is very simple, as much as a single click.
The above coupled with its friendly user interface make BlueStack an excellent emulator. Another advantage is its universality, not requiring any special configuration and running on most PCs, even with older hardware. With access to the Android store, it has been optimized for the gaming side. This is the guarantee of stable and fluid use.
2. Nox Player
Nox Player is a program that is also compatible with Mac and is specifically designed to improve your gaming experience. It is much simpler and more intuitive to use, even for users with little computer knowledge.
It is perfectly designed to launch the most popular games, with a system that optimizes performance to make the most of resources and avoid speed problems when enjoying them. This allows you to have its maximum performance, even in multiplayer games like PUBG Mobile or Free Fire.
3. MEmu Play
MEmu Play, formerly known simply as MEmu, is an alternative that has decided to focus on gaming. This means that all its experience and interface revolves around allowing you to use Android games as if they were for PC, although that does not prevent you from using other types of applications as well.
It has multi-instance so that the games run separately and you can use several at the same time, specific options on the sides of the window, and it allows you to map the keypad to simulate screen touches or a controller you want to connect. Its biggest point in favor is that it is adapted for both Intel and AMD processors.
4. Gameloop
Gameloop is another way to experience high-quality Android games on Windows PCs. It is a dedicated game emulator developed for gamers who want to play a range of Android mobile games on desktop PCs. You'll be surprised to learn that Gameloop, formerly called Gaming Buddy, has been developed by Tencent as part of the desktop mobile gaming experiment.
Initially, PUBG was only playable on this platform, but now Tencent has brought support for a huge list of Android games including Free Fire and Call of Duty. Basically, with Gameloop, you will get support for Play Store, all popular Android games with support for mouse and keymaps.
5. Koplayer
Koplayer is another tool specialized in simplicity, however, it has some interesting features, such as its operational stability, which offers quite good performance, making it a good option to play any game on the Play Store.
It is very easy to use, once installed you just need to start downloading the games directly from the Play Store or, if you prefer, you can drag the .apk files directly to the emulator, which will help you to install them quickly even if you downloaded them from any page in the browser.
6. Andy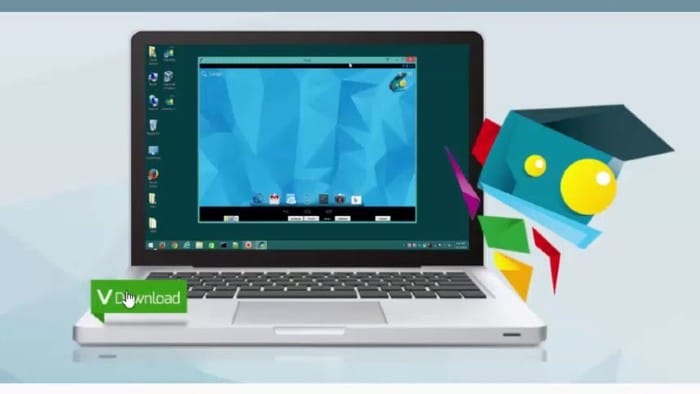 Andy is an emulator that allows you to download almost all Android apps and video games directly to your computer. With Andy, you can run your favorite chat and apps as if you were doing it on a mobile device. Besides, the emulator provides unlimited storage capacity.
Andy has Windows support and Mac compatibility. You can use your own mobile as a remote control when running games on the emulator. It also allows you to run all the messaging apps from your computer, including Whatsapp, Snapchat, Telegram, Line, etc.
7. Droid4X
Droid4X is an excellent simulator of the original Android system, which you can have in the comfort of your computer. With Droid4X, users will have a virtual Android device with individualized configuration and performance. Droid4X allows you to download Android apps and games, and run/play them on a computer screen quite conveniently.
It has a version of Windows and another Mac; the iOS version is already available. In addition, it has the option to record the screen when you play and it also has support to use Touch screens, in case it is the case of your PC.
8. Genymotion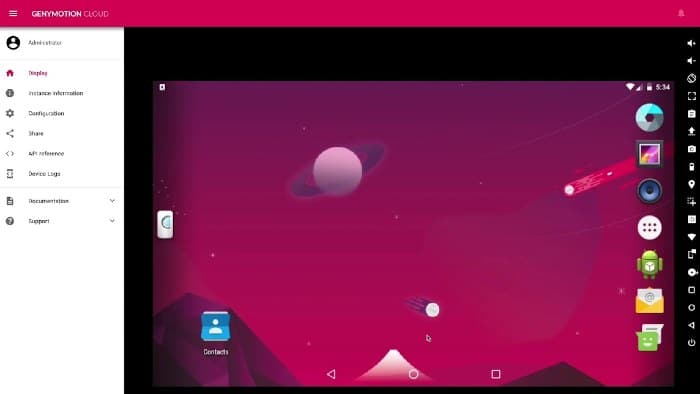 Genymotion quite a popular emulator that has the peculiarity of offering, in addition to its desktop version, a version in the cloud to be able to run Android in the cloud, consuming much fewer computer resources. The negative part is that it is mainly focused on developers, so from each to the basic user, it may be a little more complicated.
Its positive part if you are a developer, is that it offers more than 3,000 virtual device configurations. This means that you can use from older mobiles like a Nexus 6 to more modern ones. The negative thing is that it is paid, Emulator.
9. LDPlayer
LDPlayer is designed with Android games in mind, and as such is 100% optimized for gamers. It has a great advantage over other emulators, and it has support to use multiple types of controls, be they gamepads, keyboard, or mouse, including those of a competitive level.
Easy to install and use, and with a great optimization of the use of resources, mainly in multiplayer games, where latency is very important. It is also compatible with titles such as Black Desert Mobile, PUBG, Call of Duty, or Brawl Stars.
10. Android Studio
Android Studio is not in itself a tool designed to emulate Android on PC. But this program is specifically designed for developers who want to create native applications of this mobile operating system.
Among the main advantages that Android Studio has, is that it has one of the best interfaces, it is the closest thing to mobile with these characteristics that you can have on your computer. The only downside is that it is still a program for creators, so it includes many unnecessary things if your only goal is to use Android on your PC.
Conclusion
That was our list of the 10 Best Android Emulators For Windows PC In 2020. Depending on the features you are looking for, or for you want, you can choose one without problems.
We hope the list has been useful to you. As always, we invite you to do your own research, and if you have any questions, leave us a comment below. Besides, if you think we leave a good emulator out, you can also leave it in the comments.