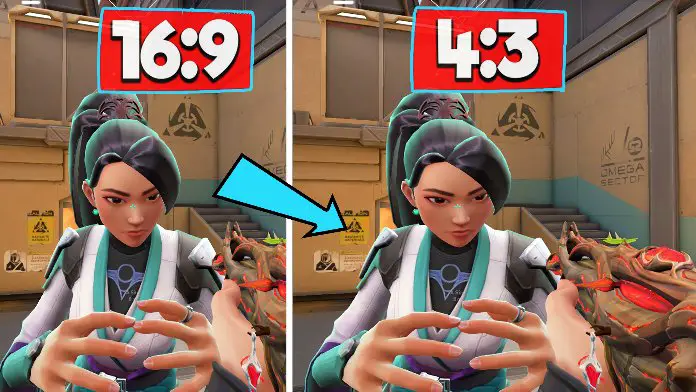 If you're looking for a way to stretch Valorant but don't know where to start, is it worth your time to grind with stretched res?
By adjusting some settings in windows, you can make your experience much more comfortable and allow you to get the most out of the game.
There are numerous articles on the internet, but none of them includes the information you want. So, here I'm writing this complete guide to help you find the best stretched valorant settings.
Let's get started.
How to get stretched resolution in Valorant?
To get a stretched resolution in Valorant, you need to set up the game's custom resolution on your desktop.
Firstly, download CRU from here.
Open the folder with Winrar.
Run the Cru as administrator.
Delete all Detailed resolutions.
Add the Resolution you want to use.
Type in the Refresh Rate.
Click ok and again ok.
Run Restart 64 -> Your monitor will restart. (Important)
Open the Nvidia control panel and go to Change resolution and select the resolution you desire to play mine is 1280×900, and apply.
Now go to Adjust desktop size and position.
Select scaling mode to Aspect ratio and Perform scaling to Display, apply the changes.

Open the Valorant. If you see black bars, press ESC, go to the video tab, and select Fill instead of letterbox.
If you have dual monitors set up, select the monitor you want to stretch. This method is a little bit risky if you have one single monitor. Suppose CRU won't support GPU or Monitor. It will not end up good, and you should search for hardware about CRU before doing this.
List of the pro who uses stretched resolution?
These are some of the most popular resolutions stretched resolutions in Valorant:
1440×1080
1280×960
1280×1050
1600×900
Most professionals prefer a resolution of either 1280×960 or 1600×900 like Tenz and ScreaM sometime play.
Best Crosshair for stretched resolution in Valorant

| | |
| --- | --- |
| Color | White |
| Outlines | OFF / 0 / 1 |
| Center Dot | OFF / 1 / 1 |
| Inner Lines | ON / 1 / 4 / 2 / 2 |
| Outer Lines | OFF / 0 / 0 / 0 / 0 |
| Fade / Movement / Firing Error | OFF / OFF / OFF |
| Crosshair CODE | 0;P;h;0;0l;4;0o;2;0a;1;0f;0;1t;0;1l;0;1o;40;1a;0;1m;0;1f;0 |
Native VS Stretched
Stretching the screen does not affect the pixels you move across your mouse. It may affect the aim. Some people feel playing stretched helps them hit headshots easier because the models are more larger. It keeps the same hitbox, making it easy to hit enemies. Additionally, it increases the frame rate.
Still, other people feel they have easier tracking targets in 16:9 native because the targets move slower. It certainly can affect the aim, but it's a personal preference.
Does Valorant support stretched resolution?
Valorant doesn't support the stretched resolution. However, you can use 3rd party tools like CRU (Custom Resolution Utility) and VibranceGUI to get the same results, but the downside is it will reduce the FOV.
Because of the lower resolution, you will gain some FPS and reduce a little bit of latency too. It will also allow you to hit shots easier cause of that low FOV.
Is stretched resolution better in Valorant?
When it comes to whether or not the stretched resolution is better in Valorant, some people argue that it provides a more immersive experience.
In contrast, others claim it can cause distortion and gameplay problems. Ultimately, it comes down to personal preference. Some gamers prefer to play with a stretched resolution, while others find the game more challenging to play.
Does stretched resolution increase fps in Valorant?
Stretched resolution in Valorant increases the FPS. Stretched lowers the resolution, which usually results in a higher frame rate.
Stretching the resolution provides minor detail for the game engine to render, which means less work for the graphics card and processor. As a result, overall performance is likely to be improved.
Does stretched resolution change sensitivity Valorant?
Valorant stretched resolution does not change sensitivity. It only affects your cursor speed in the buying menu before the round. Changing the resolution does not affect your sensitivity at all.
If you want to test it yourself, go and do a 360 game and measure your mouse distance. Also, it's the misconception that mouse sensitivity is DPI (dots per inch); it's CPI (counts per inch).
Valorant 4:3 VS 16:9
Conclusion
Finding the best stretched valorant settings can be a daunting task. But, by following this guide, you should be able to find the proper settings for you. Remember to experiment and keep track of what works and what doesn't.
If you have any questions, please don't hesitate to leave a comment below. Thanks for reading!