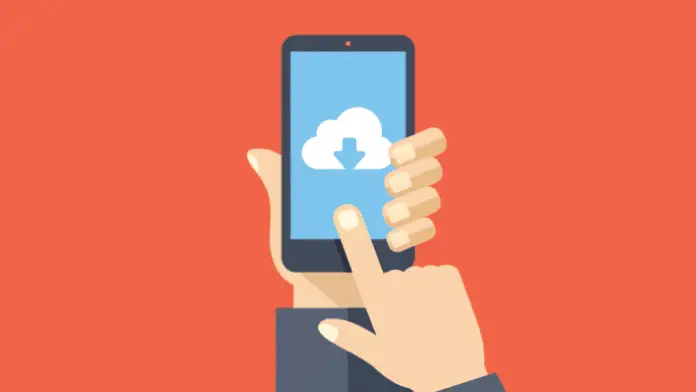 Are you tired of slow Android downloads? And as an alternative are you looking for a download manager? Well, then, the download manager is the best solution for you. So we will help you by showing you the best, or rather, the ones that for us are the best. Because each one will have their preferences. If you have any problem with the Android download managers, this article will solve it for you.
What Is The Use Of Android Download Managers
Android download managers are responsible for managing, optimizing, and accelerating the download of files. We are not talking about the downloads we make from Google Play or update tasks that are done in the background, but about all those PDF files, photos, or videos that we download from the internet to the Android Device.
With a good manager, we can perfectly handle several simultaneous downloads without a problem, resume failed downloads, avoid cuts, improve download speed, define a maximum number of threads per download, and ultimately, enhance the download of files on our device.
10 Fastest Android Download Managers
1. Advanced Download Manager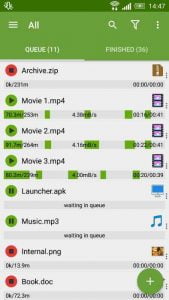 Advanced Download Manager is a powerful Android application. It allows you to download files of any type and up to 3 files at once to your Android device. The app automatically recognizes links or downloadable files from your default browser and even speeds up the download speed using up to 9 instances of multi-threading.
It is compatible with browsers such as Chrome, Dolphin, Boat Browser, etc. It also has a built-in browser called ADM that supports multiple tabs and provides advanced media download capabilities. This IDM alternative for Android has a clean interface and covers many outstanding features. You can choose from several different download folders depending on the file type, and you can even pause, resume, or try your downloads again.
2. Turbo Downloader Manager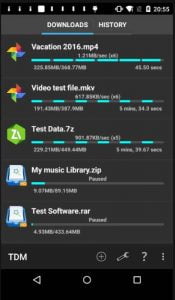 Turbo Downloader Manager is an excellent download manager application that boasts download speeds of up to 5 times faster than the competition. It aims to provide a reliable file download even on low bandwidth. Turbo Downloader supports multiple web browsers like Chrome, Firefox, Dolphin, UC Browser, etc. It also has its own browser in case other browsers don't tell you.
This download manager can run up to 9 multithreading instances to easily increase the download speed of your files. You even have built-in performance parameters allowing an additional increase in speed. With Turbo Downloader Manager you can pause/resume downloads at any time. Even in standby mode, downloads continue normally and you receive notifications for each completed file.
3. Download Accelerator Plus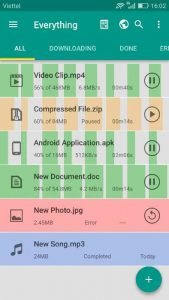 Download Accelerator Plus is another very suitable Android download manager application to download content easily. Its outstanding features include direct download to SD card, built-in browser with multiple tabs, automatic resume ability for interrupted downloads, and much more.
It can automatically capture downloadable links whenever you copy to clipboard or open downloadable links in your browser. You can even log in to your Google account and back up your download data. The application uses a smart error handling function to avoid interruption of download threads.
4. Android Download Manager
Android Download Manager is another that deserves to be in the list with the best, and that allows you to manage all downloads from the same application. It has a clean and simple user interface with lots of features.
The application allows you to download files in parallel parts that will cause an increase in download speed, like the rest. It also has the ability to resume and supports file downloads of up to 2GB. Downloads can also be started from your preferred browser or by entering the download URL in the app directly.
5. Loader Droid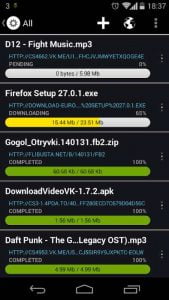 Droid Loader is another great download manager developed for Android. It is compatible with any type of download, such as applications, images, music, videos, etc … Like ADM, this app also splits downloads into 3 different parts which speed up overall download speed. In addition, all downloads have the ability to resume at any time, and even simply pause them.
The good thing about this is that it will automatically stop when the connection is lost and the download will automatically start when the connection returns. This option is usually found in most download managers, in fact, it is one of the functions that make it worth installing one.
6. IDM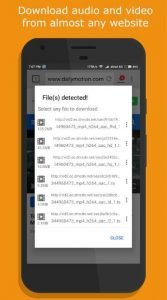 The only problem with this download manager is that it more often displays advertising videos in full screen, which is rather annoying in my opinion. Other than that, there is still a great free app with a lot of positive reviews on the Play Store and an advanced download manager with support for downloading Torrent files. Its paid version will surely please you, thanks to an ad-free experience, a download scheduler, downloading ranging from 5 simultaneous files, and much more.
With IDM, you can save files directly to your SD card. It can easily download ZIP / RAR files, documents, music, videos, photos, and compressed APK files. In addition, it contains an integrated browser with Adblock and a pop-up blocker. The application has an intuitive and very refined interface with easy access to downloaded files.
7. Downloader & Private Browser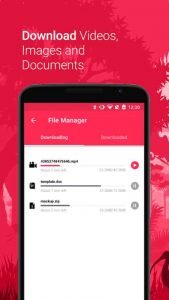 With 100 million installs on the Play Store, Downloader and Private Browser is a lightweight and impressive download manager application for Android users. It allows you to browse, download, and protect your data. To download files, you will need to access them via its browser.
This download manager supports the download of all file formats. You can even browse the web privately by activating its private browsing feature. In addition, you can store your downloaded data in a password-protected folder. It also has a video and music player built into the application.
8. IDM Download Manager
Not to be confused with the famous download manager for Windows. Here, IDM is also a download manager, but for Android, and has absolutely nothing in common with IDM for Windows.
As far as we're concerned, IDM for Android is a download manager that claims a download speed five times faster than the competition. It allows you to download any type of file either automatically by retrieving the download link from the supported browsers or by manually entering the URL in the corresponding insert.
9. Fast Download Manager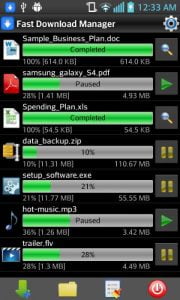 Fast Download Manager is another excellent Android download manager that allows you to download files easily and quickly. Automatically detect downloadable links from your web browser, or you can even manually add some links.
You can download all kinds of files and you can also pause, resume, or restart the downloads at any time. Also, with the quick download manager, you can download many files simultaneously and even queue them up. This fast file downloader for Android also allows you to download files while the app is running in the background. The app is free and lightweight, and it also has support for different languages. It is with advertising.
10. GetThemAll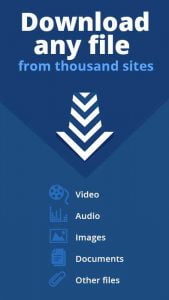 GetThemAll is one of the best download management apps for Android. With it, you no longer have to search multiple websites for downloadable files. It comes with a fully integrated web browser. This browser displays a small arrow button in the lower right corner, once you click on it, the app scans the page and searches for downloadable files or links.
It also has a built-in file manager, and you can even download files in background mode. GetThemAll provides an easy way to share files on Google Drive or send them to PC via WiFi. It's free on the Play Store with no in-app purchases. The app, however, does show ads.
Conclusion
These are some of the Fastest Android Download Managers, which will increase your download speed while keeping an organized history of your downloads. Thanks for reading this article. And don't forget to share this post with your friend and comment out other download managers for Android that aren't on the list.